Choosing a metal seated ball valve is essential for safe, efficient operations. Ball valves offer many benefits over other valves, including a more compact design, tight sealing, and easy operation. However, it's important to know whether you will need a floating ball valve or a trunnion ball valve for your application. We'll discuss the differences between the two and which types of applications you might choose one over the other for.
What are the Differences Between a Trunnion and a Floating Metal Seated Ball Valve?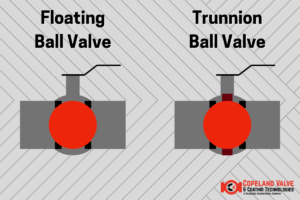 First, it's important to understand the differences between floating and trunnion ball valves. Essentially, these are two different ways the valve supports the internal ball.
In a floating ball valve, the seats hold the ball in place and it floats around in the valve body. Upstream pressure from liquid or gas pushes the ball up against the downstream seat. This helps form a leak tight seal.
By contrast a trunnion metal seated ball valve uses shafts on the top and bottom of the ball to hold it in place. As such, the ball stays in place and does not move laterally inside the valve body. Instead, to provide a tight seal, floating seats surround the ball and are always in contact with it. With pressure, the seats press against the ball to form a seal.
Generally speaking, a floating ball valve will require more torque to operate than a trunnion ball valve. Also, floating ball valves are typically limited to smaller valves compared to trunnion options.
When to Choose Floating vs. Trunnion for Severe Service Ball Valves?
When considering which severe service ball valves to use for your operations, you'll need to decide between floating and trunnion style ball valves. There are a few things to think about to help you choose the right option.
First, obviously cost will likely come to mind as you're deciding on a valve. Typically, floating ball valves are less expensive than trunnion ball valves. This is because their design and manufacturing is less complex than trunnion ball valves. They don't need spring-loaded seats or extra shafts to hold the ball in place, so there are fewer internal components.
However, you also need to consider your application. As we mentioned, floating ball valves tend to need more torque to operate. This is especially true as pressure and valve size increase. Therefore, in high pressure applications, many people choose trunnion style valves instead of floating ball valves. This is because they're more versatile and can withstand higher pressures and they're easier to operate in such conditions.
In addition, most of the time floating ball valves are much smaller. This is perfect if you're working with smaller size pipelines. However, for larger pipelines, you may need a trunnion ball valve. These types of valves can often use much larger diameter balls than floating options.
Dependable, Heavy-Duty Ball Valves since 1940
When you need high quality ball valves for severe service applications, choose Copeland Valve for your needs. We've been manufacturing ball valves since 1940 and offer the most innovative and high quality valves on the market today. Our team works with you to help you find the most effective and budget-friendly solutions for your applications. In addition to high quality design and manufacturing, we also offer fast turnaround and competitive pricing. Whether you need a forged ball valve or a custom-designed slurry valve, we're here to help. Call us now at (346) 384-0865 to request a quote!