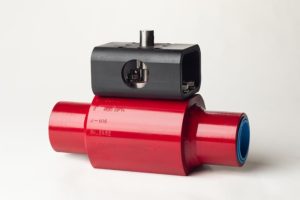 Leaks: Many people dread the word, from engineers and production managers to shareholders. They can put people in danger, threaten the environment, or completely interrupt your processes. Leaks from severe service isolation valves can bring production to a stop, which may leave many companies hemorrhaging money on non-productive time. That's why you need to be able to trust your valves. So, how can you ensure you receive the quality valves you need for your applications? 
Valve testing is a common answer to this question. Valve manufacturers test valves under a variety of pressures based on various national and international standards. However, you need to make sure you source isolation valves from a company you can trust. That's why every valve we manufacture undergoes not only required valve tests, but also our own zero leakage testing. 
Testing Isolation Valves for Zero Leakage
There are many different testing standards for isolation valves, depending on your applications. Today, the API 598 valve standard for valve inspection and testing is one of the most widely used testing specs in the world for isolation valves. The inspection and testing standards provide requirements for a wide range of valves, from metal seated ball valves to gate valves. According to API 598 standards, the valve must meet various criteria, including meeting maximum allowable leakage requirements. 
However, we take this one step further by supplementing required testing with our very own testing standards. Our Copeland Zero Leak Test involves testing for zero valve leakage across sealing areas, body, stem, and other components that are critical for your severe service applications. 
Depending on the type of valve, we perform both hydrostatic and pneumatic valve testing. Our technicians conduct shell testing and internal testing so end users are confident their valves can withstand harsh, industrial processes. 
Ensure You Work With the Best for Valve Testing
However, even though other manufacturers may also test their valves, it's important to work with a team you can trust. The results of valve tests can vary based on testing technique. Poor technique may not give accurate results.
This means you want to ensure that those responsible for testing your valve receive the proper training for valve testing. Our valve specialists bring not only training, but years of knowledge and experience to the table for your valves. 
At Copeland Valve & Coating Technologies, we provide heavy-duty, high performance valves you can trust for even the most intense applications. We design and manufacture isolation valves for a wide range of uses, from oil refining to electrical power generation. We also provide proprietary carbide coating in Houston to help your valves last longer and withstand corrosion, erosion, high temperature, and high pressure environments. Call us today at (713) 926-7481 to learn more and request a quote for your valve needs.